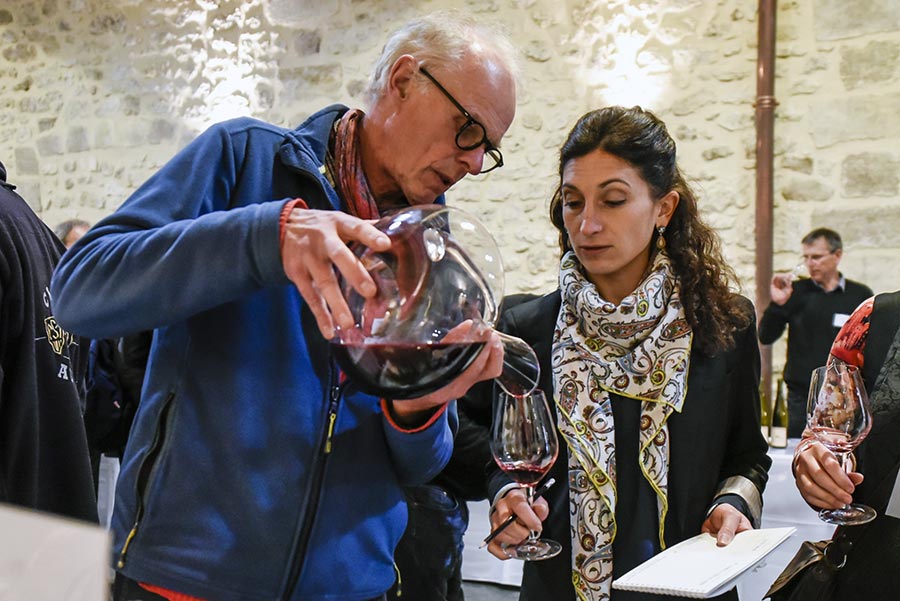 Puy Arnaud's wine range is designed to be eclectic and creative. Its goal is to offer you wines for every occasion: fruity wines with friends, good Bordeaux at the restaurant during lunch, crisp and tense Rosé for summer holiday and Great Wine for exceptional meals.
It aims to be part of the redefinition of a Bordeaux style based on freshness, drinkability, intensity of the fruit and aromatic complexity, with very energetic and persistent finishes dominating alcohol. All of that with the silkiest and finest tannins possible, in search of distinguished and optimistic wines.
The annual production is approximately 60,000 bottles including 50% of Great Wine.
Discover our wines, unique expression of our terroir.
A few words on our practices
Our grapes are all picked by hand and transported in small crates to the cellar. We sort without material and technology excess. Our only criteria is to keep healthy grapes with diversity, a complexity factor.
All grapes, after destemming without crushing, are vatted through gravity. Each container is sowed by its own "pied de cuve" (foot of the tank). We can perform a light settling through cold in the first 24 hours for even more purity.
The fermentations are carefully carried out with velvety extractions. To us, the fermenting phase is a time of preservation of aromas and allows the elaboration of the attack and mid-palate. The finish will get constructed gradually, at controlled temperature, during the fermenting maceration.
When drawing off the wine, we separate it in 3 entities: the free-run wine, then the fine lees and finally the press wine which will finish sweetening in amphoras before joining the assemblies. Lees are used to feed the wine during ullage.
Only the Great Wine and part of the Les Ormeaux cuvee are raised in barrels or amphoras. Only 10% to 15% of the wood is renewed each year.
As for fruit wines (the Rouge, the Rosé and Bistrot/les Sélections Puy Arnaud), they are developed with grapes labeled AB since 2012 originated from plots on rented area under the Castillon appellation.
The wines are lightly sulfited before the bottling and the fruit cuvee are sulfited in doses below or equal to 30 mg/L of SO2 in a spirit of "Natural Wine."
They are certified as organic or biodynamic (AB, Biodyvin, Demeter) by Ecocert.
"Drinking a glass of wine is always getting to the bottom of things."
Manuel Vasquez Montalban